Home Design Trends: 3 Ways to Design a Sustainable Custom Home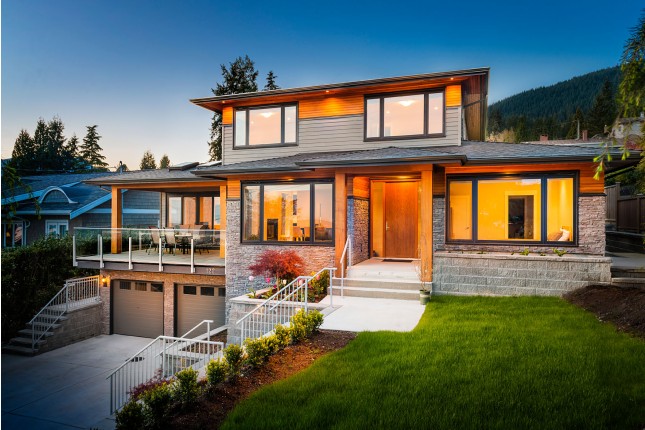 Vancouver has committed itself to becoming one of the world's Greenest Cities by introducing a series of requirements for new homes. But, beyond meeting building requirements – building green just makes sense. Why? A sustainable custom built home is about more than solar panels and wind turbines, its about maximizing your comfort, reducing your energy needs and in turn, saving on utilities.
Below are the 3 best ways you can design a sustainable custom home:
1. Passive heating and cooling
Passive heating and cooling are design techniques that utilize natural phenomena, like the power of the sun and wind direction, to maintain comfortable temperatures indoors year round. By taking into account the amount and direction of sunlight, passively designed custom homes keep you warm in the winter and cool in the summer.
So, how does it work?
In homes that utilize passive heating and cooling, windows with awnings or overhangs are placed on the south-facing side. In the winter the sun is positioned at a lower angle and allowed to shine in, thereby heating the home. In the summer, when the sun is higher, the overhangs or awnings shade the home. 
The strategic placing of windows and overhangs in this custom built home exemplify  passive home design.
Since heating a home is often the source of the most energy use, asking your architect or building designer about passive home design can save you big bucks in the long run, without any extra cost.
Check out what the City of Vancouver has to say about passive home design here. 
2. Smart Floorplans
When designing your custom home floor plan, consider how and when during the day you will be using each room. Rooms that are used in the evening (like dining and living rooms) should be placed on the western side of the home to take advantage of the evening sun. Rooms that are used throughout the day (like a home office) should be located on the south facing side so they will be warmed throughout the day.  Kitchens should be situated to avoid over-heating, ideally on the east or north facing side – this will catch the morning sun but avoids the afternoon heat.  
 3. Consider the Future
What will your home life look like 10, 20, 30 years from now? Will you have more kids? Or will they have moved out? Will elderly parents move in? Will you have an electric car? Will you need an elevator?
By considering these questions when designing your custom built home now, you can reduce the financial and environmental costs of a big renovation or move in the future.
Right now your home may have a basement bedroom – but what if you wanted to change that to a suite in the future? If you've planned for this and roughed in wires and pipes for a kitchen and bathroom, renovations will be a breeze. On the other hand, if you hadn't planned to renovate, you will have to tear out walls and run new plumbing and electrical feeds through your home. Roughing in a suite also adds resale value to your home and makes it livable for the future.
This sweet suite come from one of our
custom built homes
in Vancouver.
If you plan to live in your home as you age, you may also want to consider equipping the main floor of your house with a full bathroom, laundry facilities, and the space for a master bedroom, even if you don't use it as one right away. Roughing an elevator is also another possibility to make your home more hospitable as you get older.
Adding an elevator, either finished or roughed in can make your home more accessible for the years to come.
Overall sustainable home design is about making your home comfortable and livable for many years to come and one of the best ways to do this is to design your own custom built home.  
If you have questions about sustainable home design or custom home building in Vancouver, North Vancouver or Burnaby, we should talk. Click here to get in touch.