Step 1 of the BC Energy Step Code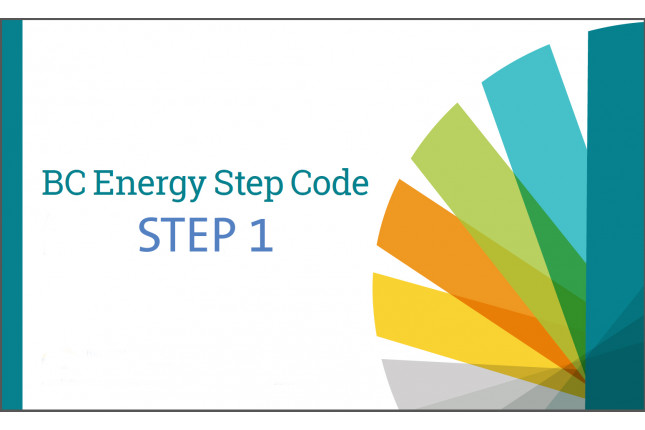 "A journey of a thousand miles begins with a single step."
-      Tony Robbins
The first steps in anything are always the most important in order to initiate a solid change. Earlier, we spoke about the end goal in the BC Energy Step Code, which was Passive House and Net Zero Energy Ready homes. 
 Just a quick recap, in case you missed it…
What is the BC Energy Step Code?
The BC Energy Step Code is a voluntary roadmap that establishes progressive performance steps that support market transformation from the current energy-efficiency requirements in the BC Building Code to Net Zero Energy Ready buildings by the year 2032.
What is so important about each "step"?
Every step is evaluated using the same tests and metrics. This is intended to create a consistent way of measuring and understanding energy use in all buildings. Higher steps in the BC Energy Step Code represent higher performance targets and greater energy efficiency, but use the same measurement tools as the lower steps. 
Step 1 in the BC Energy Step Code:
The first step in the BC Energy Step Code, called the Enhanced Compliance Step, means building to the current requirements in the BC Building Code and measuring the performance of the building using the modelling and measuring tools of the BC Energy Step Code. This allows the builder, owner, or designer to satisfy the current expectations of the BC Building Code using the tests and metrics required for all higher performance steps.  
How is Step 1 measured and achieved?
In a Step 1 project, builders must supply officials with an energy model to demonstrate that their design will meet the code requirements. Upon substantial completion, a builder must also submit the results of an airtightness test. They would ideally do so before installing drywall or other interior surfaces, to allow opportunities to address any leaks.
Stay tuned as we dive into Step 2 at a later date!

We hope you enjoyed learning more about the BC Energy Step Code. This is going to change the way we build homes for the future, and we cannot wait to share them with you!
If you or someone you know are thinking of building a Custom Home in either Vancouver, North Vancouver, or Burnaby or you just like this article, please give it a share on Facebook and Twitter! Don't feel like sharing? Just check out our gallery, Facebook, Instagram, and/or Twitter below!!
l     Gallery     l     Facebook     l     Instagram     l     Twitter     l