How to: Design a Custom Bathroom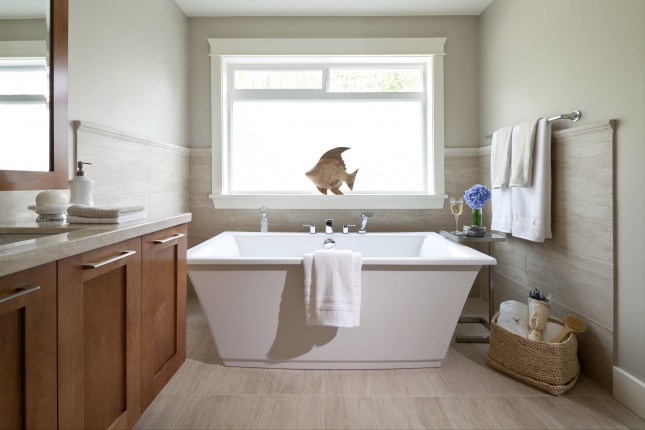 When building a custom home, design is often the most exciting and fun part for our home owners, but it isn't without its difficulties - for example: bathrooms.
With plumbing fixtures, tile, counter tops, cabinets, glass and mirrors all in one small space, it can be easy to both over-spend and over-design a custom bathroom, creating an overwhelming space. On the other hand, because the space is small, powder rooms can be an opportunity to splash out with interesting wallpaper or custom tile that would be too expensive to use anywhere else.
So, how do you go about designing a custom bathroom you'll love for years to come? See below for our tips and examples.
1. Choose a Star and Let It Shine
If you've spent the money on a beautiful marble countertop, don't drown it out with floor to ceiling tile – let it be the star of your bathroom and inform your other design choices. This goes for wallpaper, custom tile or any other design feature – choose one thing (it doesn't necessarily have to be the most expensive, just the most interesting) and really show it off through your other choices.
Take this custom powder room – it doesn't need an extravagant backsplash or countertop because it already has amazing silver wallpaper. Even the shape of the mirror echoes the pattern of the walls, pulling together this room and making it special.
Another example is this gorgeous bathroom from one of our custom homes:
This guest bathroom features beautiful porcelain tile wainscoting and flooring, so our home owners made a great choice to go with a free standing pedestal sink, doing away with a countertop all together. With all of it's natural variation, the tile is the real star of this room and the paint color picks up on this and becomes a great supporting character.
2.  Interesting Color Combinations
Because bathrooms are generally small, they can be great place to play around with interesting or unexpected color combinations. Take this custom master bath as an example:
Chocolate brown and pastel aquamarine isn't the most obvious of color combos, but this ensuite shows how great they are together. The aquamarine walls and shower tile make the space airy and relaxing, while the brown flooring grounds it, creating great visual interest. With a bold color combination such is this, it's a good idea to use a neutral, like bright white, for other surfaces, (like the moldings and tub shown here) as to not overwhelm the space.
3. Textural Neutrals
The conventional advice is that neutrals are always safe – but this often translates to boring. This doesn't have to be the case, though, if you go for neutrals with lots of texture.
This custom master bath uses some great textured neutrals in sage green, grey and white to create a space that is interesting but not busy. White river stones on the tub and shower and the grey-green paint of the walls create a soothing, natural atmosphere, while the granite countertop and custom tile flooring give textural contrast without overshadowing each other.
Finally, don't forget – accessories are a big part of adding color and personal style to your bathroom. Art, plants, and even towels can help play into your color scheme and create a space that is inviting and special.
 If you liked this post, give it a share on Facebook or Twitter, and make sure to check out our gallery for more custom-built  bathroom photos.