How To Build: Coffered Ceilings and Wall Paneling Part 2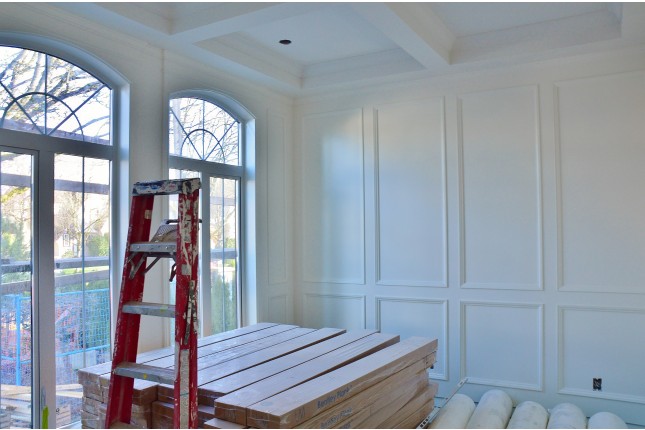 On Friday we introduced you to a custom build from Vancouver we are building with some stand out structural details. Specifically, we wrote about the homes elegant coffered ceiling and how we achieved them. The next aspect that we are going to delve into is the custom home's classic wall paneling.
Vancouver Home as it looks today (Apr 8th)
Wall Paneling, or wainscoting, is a kind of wood paneling that has been used for centuries to add decorative accents throughout a home. Many people, due to the name of this technique, believe these accents are individual panels that are placed on the wall; a pre-made kind of thing. In some cases they may be correct, but this custom home's wainscoting required a greater amount of detail.
Finished Wall Paneling
Our wainscoting started out like any other wall in the home: as a simple drywall. The wall was then ready for "panelling",so we began the process of creating the design you see above.
With the walls, accent panels, and windows measured, we begin with sizing and cutting MDF boards to the measurements needed. MDF, medium-density fiberboard, is an engineered wood product used for many different building needs; but, in wainscoting, it is used as a template for the other wood pieces that will be used.
Example of MDF
Once every piece is cut to exact dimensions, it is carefully placed onto the wall. As MDF is a thick material, its placement leaves the indentations that are quintessential to wainscoting.
 Example of the wall paneling at this stage 
In the indentations, we place moldings to help create the elegant look that only wainscoting can. Each molding is cut precisely, and assembled before being glued onto the drywall and MDF. When the moldings are placed, there should be no spaced between it and the drywall, same goes for the molding and MDF. If there is a space, your moldings may need to be adjusted, caulked, or replaced. 
Vancouver home once almost all the moldings were placed

With moldings placed, everything was ready for the final touches. We added additional moldings and painted, creating the beautiful walls we have today.
Finished walls in the Vancouver home

We hope you enjoyed the details of this home, and as the finishing of the home is coming up very quickly, we are sure to write one or two more articles about it. This home has so many amazing features, and we cannot wait to share them with you!
If you or someone you know are thinking of building a Custom Home in either Vancouver, North Vancouver, or Burnaby or you just like this article give it a share on Facebook and Twitter! Don't feel like sharing? Just check out our gallery, Facebook, Instagram, and/or Twitter below!!
l     Gallery     l     Facebook     l     Instagram     l     Twitter     l